In the "Indianapolis Monthly"article, an ice cream sundae accompanied the exotic Zaharkos. The quintessential American dairy product seemed completely unrelated to its juxtaposed Greek word. Despite this multinational anomaly, Zaharakos is in fact the name of the old fashioned ice cream parlor located in downtown Columbus. I was able to conveniently combine the architectural tour of Columbus (
#28
) with this most delicious of ventures. For those of you thinking that Columbus is even more appealing now that ice cream is in the mix, you are reading the right blog.
Located in a Historic Landmark (what else would you expect of this town?), Zaharakos is housed in a grand 110 year old building. Upon entering the Tiffany-style stained glass door, a sprawling marble counter and mahogany woodwork immediately impress. Vintage soda pulls line the counter and the staffers wear white button downs, black bow-ties, and
dorky white paper hats
. The uniform was uncomfortably reminiscent of my former days as a waitress at Steak N Shake. Despite this unfortunate parallel, I was able to thoroughly enjoy the scene.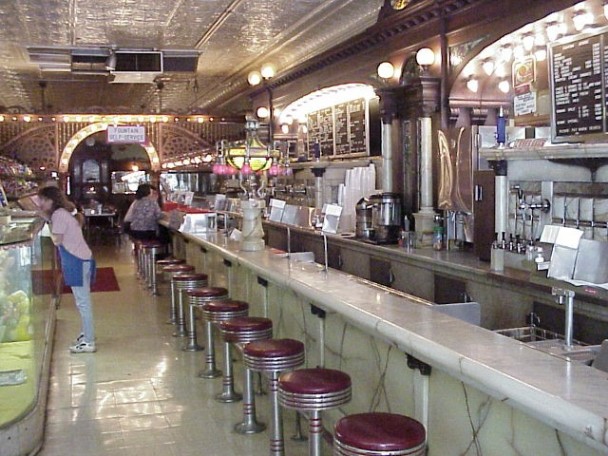 Counter at Zaharakos


Table section of Zaharakos
The lunch menu at Zaharakos consisted mostly of salads and sandwiches, but a few choices offered unexpected additions that broke up the monotony to which so many lunch menus fall victim. I had the Artisan Grilled Cheese and Avocado with a side of fruit. I am a grilled cheese connoisseur (my taste is oh so refined) and this was definitely one of the best that I've tasted. The only grilled cheese that has topped Zaharakos' was Oh Yum! Bistro's
Ultimate Grilled Cheese
.
After the entree, I was ready for dessert. It would be a sin to visit Zaharakos without ordering something from the fountain. I had looked into the place beforehand and nearly every review said that the Green River float was a near-requisite signature, so I decided to disregard my common sense aversion to bubbly green drinks and order it anyway. It was not the best drink of my life, but it was not the worst. That superlative goes to a Rockstar Energy Drink. Shudder. The Green River soda was a rare flavor that I can most closely describe as sugary sweet lime. The vanilla ice cream lended a creamy taste. The combination was something one would expect from at a family reunion punch bowl; something made by the crazy aunt who flew in from the Florida Keys with lots of souvenir limes in hopes of putting a
Margaritaville
twist on the frothy classic.
Green River Float



Even if the Green River float was a little funky, the ambience and our adorably chatty waitress made the entire experience worthwhile. A museum and general store ala Cracker Barrel were attached to the restaurant and made for fun browsing.
Soda counter in museum
Zaharakos' spin on a general store
Zaharakos is just another cool thing in Columbus that made the day trip loads of fun.